---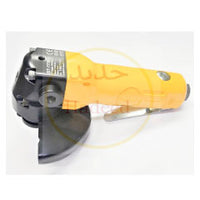 Sumake Pneumatic Grinder, Angle Grinder 4"/100mm ST-7736 & 125mm/5" ST-7737
Specifications

Model ST-7736
Free Speed 11000 rpm
Capacity 4"
Overall length 230mm appx
Air Inlet (PT) 1/4"
Air Hose ID 3/8"
Net weight: 1.8 kgs
Air consumption 6cfm
Product Made in Taiwan
Price is inclusive of GST & Free Shipping. Cash on delivery option available at checkout.
Sumake pneumatic angle grinder, also known as a pneumatic hand grinder or disc grinder, is a handheld pneumatic tool used for grinding (abrasive cutting) and polishing.
Sumake air angle grinder may be used for removing excess material from a piece. There are many different kinds of discs that are used for various materials and tasks, such as cut-off discs (diamond blade), abrasive grinding discs, grinding stones, sanding discs, wire brush wheels and polishing pads. Sumake air grinder tool has large bearings to counter side forces generated during cutting, unlike an air drill, where the force is axial.

Sumake air grinder is widely used in metalworking and construction. They are commonly found in workshops, service garages and auto body repair shops.  Discs for pneumatic grinders come much smaller. Sumake air hand grinder is generally used for lighter duty jobs where more precision is required. This is likely because compressed air grinders can be small and light yet remain powerful, because they do not contain heavy copper motor windings, while it is harder for an electric grinder to maintain adequate power with smaller size. 
Available in Sumake
Sumake Air Impact Wrench 1/2" ST-5540, 
Sumake Air Impact Wrench Kit 1/2" ST-5540K, 
Sumake Air Micro Die Grinder ST-3170, 
Sumake Air Hammer 150mm ST-2310R, 
Sumake Air Hydraulic Rivet Gun ST-6615,
Sumake Air Impact Wrench 3/4" ST-5560, 
Sumake Air Impact Wrench Kit 3/4" ST-5560K,
Sumake Air Angle Grinder 4" ST-7736,
Sumake Air Angle Grinder 5" ST-7737, 
Sumake Air Impact Screw Driver ST-44601,
Sumake Air Screw driver ST-4450A, 
Sumake Air Die Grinder Metal Body 1/4"(6mm) ST-7733(M),
Sumake Air Die Grinder Plastic Body 1/4" ST-7735F, 
Sumake Air belt sander ST-7709, 
Sumake Air reversible drill 1/2"13mm ST-4441, 
Sumake Air reversible drill 3/8" 10mm ST-4431
Hadeed Tools & Hardware
25/13 Boo Begum Street
GP Road, Anna Salai
Chennai 600002.
8939004147
htah5253@gmail.com