---
Taparia Bent Nose Plier 150mm/6" BN-06
Generally Conforming to IS 3552-1989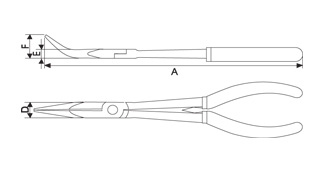 | | | | | | |
| --- | --- | --- | --- | --- | --- |
| PROD. NO. | A | D | E | F | WT.GMS |
| BN 06(Econ) | 170 | 16 | 9 | 20 | 145 |
| BN 08(Econ) | 200 | 17 | 9 | 30 | 185 |
| BN-11(Econ) | 270 | 17.5 | 10 | 32 | 310 |
Bent nose pliers are used in electronics where they are often used in place of tweezers. These versatile pliers are also used in jewelry making. Bent nose pliers are ideal for getting into and gripping hard to reach places, they can also be used for opening and closing jump rings and shaping wire.
The bent angle of tips means that you can see your work without the handles getting in the way of your line of sight.This variation of needle nose pliers has a set of jaws that are bent at an angle at the midpoint (most commonly 45 or 90 degrees). This allows them to grip surfaces without getting in the way when multiple pliers are needed or the angle is too difficult to reach with normal needle nose pliers.

As a result, they are useful in jewelry making, electrical work, and other occupations which deal with shaping wire.
Product Made in India