---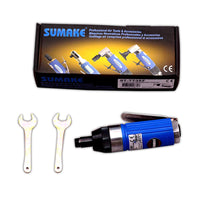 Sumake Air Die Grinder ST-7735(F) Plastic Body Die Grinder
Specifications

Model ST-7735F
Collet size 6mm (1/4")
Free Speed 22000 rpm
Air inlet PT 1/4"
Air Hose ID 3/8"
Air consumption 13cfm
Overall length 173mm
Net weight 0.9 kgs
Product Made in Taiwan
Air die grinders and Air rotary tools are handheld pneumatic tools used for grinding, sanding, honing, polishing, or machining material (typically metal, but also plastic or wood). 
Types of cutters that can be used in a die grinder
Mounted stones of many shapes and various [small or medium] sizes (also called mounted points or grinding points)
Burrs of many shapes and various [small or medium] sizes (also called rotary files)
Small drill bits
Small endmills
Small disc-shaped saw blades or milling cutters
Small abrasive cut-off wheels, which work like saw blades except via abrasive cutting rather than sawing per se
Small sanding drums
Small sanding flap wheels
Small cloth or fiber wheels, drums, and flap wheels (for holding polishing compound)
Mounted laps

The cutter is usually held in a collet, which is a convenient means of chucking in this application and provides the concentricity needed for high-RPM use. 
About Sumake
Sumake is a manufacturer and exporter specializing in professional high quality pneumatic tools, compressors and accessories suited to a wide range of applications including industrial and automotive.
Sumake is an innovative company. as a result of constant research and investment they keep at the forefront of current technology and design, thus providing energy efficient, durable and reliable products to industrial markets around the world.
Sumake offers a wide, comprehensive range of CE certified tools and accessories including: Impact Wrenches, Ratchet Wrenches, Drills, Grinders, Hammers, Sanders, Screwdrivers, Spray Guns, Riveters, Nail Guns and Bradders, just to name a few.
Certified to ISO 9001 Sumake run's an efficient well organized computerized Q.C. systems that ensures they meet quality, packaging and delivery benchmarks.
Superior service to their customers is not a goal, it's a reality.
The know how of Sumake's R&D team make sure that their customers are provided with the latest innovations, designs and technical features.
Factories with modern plant and equipment combined with strict Q.C. systems,
ensure consistent quality product.