---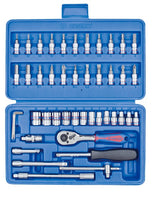 King Tony Socket Set 46 Pc, 1/4" Dr, Socket Set 2346MR
Blow case size (mm)
254 x 147 x 46 (0.16 cuft)
Contents
2335M 4, 4.5, 5, 5.5, 6, 7, 8, 9, 10, 11,
12, 13, 14
2033 T8, T10, T15, T20, T25, T30, T40
2035 H3, H4, H5, H6, H7, H8
2031 PH1, PH2, PH3
2032 4, 5.5, 7
2038 PZ1, PZ2, PZ3
1115-14 H1.27, H1.5, H2, H2.5
1.06 1 / 12 Kg
2791 2222-02
2222-04
2571-45 2312-06 2179DF
Range of King Tony Tools available with us
King Tony Sockets
King Tony

 

Impact

 

Sockets
King Tony Torx Sockets
King Tony Spline Sockets
King Tony Socket Sets
King Tony Allen Keys Hex Wrenches

King Tony Chennai
Price including GST & Free Shipping
About King Tony
King Tony makes professional quality hand tools built to compete with the best in the world. They set their standards high and in the years since, have consistently exceeded the requirements of the world's toughest standards. King Tony tools don't just meet the DIN (German) standard and the ANSI (U.S.A.) standard, they routinely exceed them. In fact, they test every torque make to a standard 30% higher than that prescribed by DIN and their pneumatic impact tools to a 50% higher standard. 
King Tony has achieved certification with ISO on three separate standards. First, in January 1998, ISO 9002, followed by ISO 9001 and more recently they have qualified for the environmental safety standard, ISO 14001.KING TONY focuses on international brand marketing. They raise brand exposure & professional image to strengthen their position in the market.
For King Tony Tools Chennai and India, contact us at
Hadeed Tools & Hardware
25/13, Boo Begum Street
Anna Salai,Chennai,600002.