---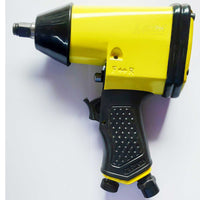 Buy from AMAZON https://www.amazon.in/dp/B09L4VNF1L
Die Cast Aluminium Body, Reversible
Adjustable Torque. Rubber scuff guards on nose and back
Built in air regulator varies speed & power
Ideal for tire changing and general assembling work and other workshop applications
Front exhaust
Specifications
Square drive 1/2"
Capacity Bolt size: 5/8"(16mm)
Free Speed: 7000rpm
Max Torque: 340Nm (250Ft-lb)
Air inlet: 1/4"
Air Hose (ID): 3/8"
Avg air consumption: 8scfm
Working Pressure: 90PSI (6.3Bar)
Length X Height: 205x200mm
Weight: 2.18kgs
An air impact wrench is a socket wrench air tool designed to deliver high torque output with minimal exertion by the user, by storing energy in a rotating mass, then delivering it suddenly to the output shaft.
Compressed air is the most common power source. Impact wrenches are widely used in many industries, such as automotive repair, heavy equipment maintenance, product assembly, major construction projects, and any other instance where a high torque output is needed.
In operation, a rotating mass is accelerated by the compressed air storing energy, then suddenly connected to the output shaft (the anvil), creating a high-torque impact. The hammer mechanism is designed such that after delivering the impact, the hammer is again allowed to spin freely, and does not stay locked. With this design, the only reaction force applied to the body of the tool is the compressed air accelerating the hammer, and thus the operator feels very little torque, even though a very high peak torque is delivered to the socket. (This is similar to a conventional hammer, where the user applies a small, constant force to swing the hammer, which generates a very large impulse when the hammer strikes an object.) The hammer design requires a certain minimum torque before the hammer is allowed to spin separately from the anvil, causing the tool to stop hammering and instead smoothly drive the fastener if only low torque is needed, rapidly installing/removing the fastener.
Product Made in China